Motor-Mover 2
Here you will find all accessories of the Original Motor-Mover 2.


Loading...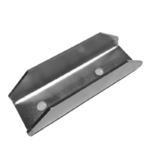 Motor-Mover Big-Bike Bracket
Does my motorcycle need a Mover-Bracket?
The solution when the swivel wheel cannot rotate freely when the centerstand pedal rod needs more space. The bracket ensures that the swivel wheel can be moved 8 centimeters backwards.

Our Big-Bike Movers customer base has shown that these motorcycles can use a Mover-Bracket:
BMW R 1200RT 2005/2013, KTM Adventure R, Yamaha Tracer 900GT

How does this Bracket work?
Left rear castor should be fitted because the centerstand pedal pedal blocks the caster from turning. This occurs occasionally in 1% of motorcycles. Mount and adjust bracket with the supplied manual and you're done. See attachments.

This product is an accessory for the BIG-BIKE MOVER.

You can also choose the Original Motor-Mover rear wheel EASY-PARKING SYSTEM most user-friendly and COMPACT parking device.

Original Mover-Bracket set consists of a 3mm metal U-profile including mounting material + manual in various languages.
2 year manufacturer's warranty.

2 year warranty on complete product.